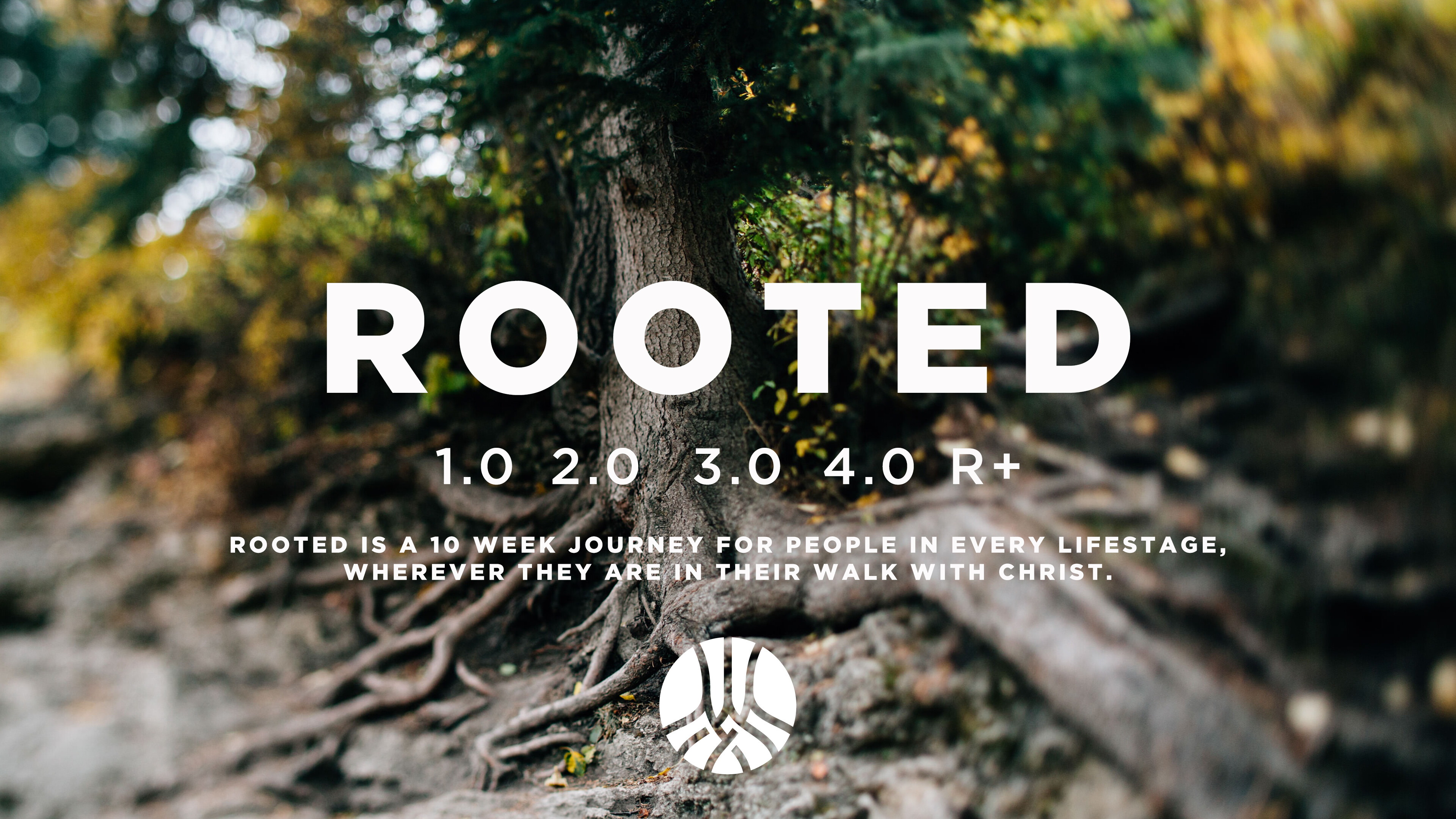 Every Sunday, Tuesday, Thursday, from 09/12/2021 to 11/14/2021, 8:30 AM - 8:30 PM
Cost: $45.00
---
**Rooted 1.0 | 2.0 | 3.0 | 4.0 | Rooted+ **
Rooted changes the way people are discipled and impacts holistic church growth while building, launching and sustaining healthy life-changing small groups in our church.
Have you completed Rooted 1.0, 2.0, 3.0, 4.0 and/or & looking for your next step? Join us in our launch of 2.0, 3.0, 4.0, and Rooted+.
2.0, 3.0, 4.0, and Rooted+ will will take what you've learned in Rooted and help you dive deeper into your faith.
Rooted 1.0/2.0/3.0/4.0/Rooted+ are all 10 week small group experiences, that include individual exercises such as daily bible reading, journaling, and prayer. As well as weekly meetings with your group to talk about what you have learned.
DETAILS:
Groups will meet on Sundays starting September 12th from 8:30-10:00am This day/time is reserved for existing groups with kids and new sign ups with kids ONLY (rooted KIDS Discipleship- see below)

Groups will meet on Thursdays starting September 16th from 6:30-8:30pm (no childcare available)
We also offer a Tuesday morning session starting September 14th from 9-11 am (for Women ONLY--no childcare available)
Rooted 1.0/2.0/3.0/4.0 will have TWO group experiences OUTSIDE your weekly meetings—a PRAYER and SERVE experience you will coordinate with your group.
The registration fee includes the required workbook, materials, leadership training for the facilitators, and the Celebration dinner.
Rooted+ ONLY:
Option #1: Your group can choose from one of the 10 curriculum options provided by SCG (your leader has the list of options).
When you pick one of these books it will include a workbook that SCG has created. The format of the workbook will be similar to the workbooks you used for Rooted - 4.0. You will register online just as you did for Rooted - 4.0. Payment includes book, workbook, the Rooted Launch, and Celebration Dinner.
Option #2: Your group can choose your own curriculum and have it approved by SCG. Your group will still register with us online. Payment includes the Rooted Launch and Celebration Dinner.
Questions about Rooted 1.0/2.0/3.0/4.0/Rooted+? E-mail Ashley at
Rooted KIDs
During the Rooted study for adults, we are providing a child-friendly discipleship program called rooted KIDs. This is more than just a childcare program for kids; it is a pathway for life change. As Parents, we invest in our children in so many ways, both with academics, sports and the arts (all GREAT things). Have you thought about their spiritual development lately? It is easily overlooked in light of all the activities they are so often bombarded with. While you are spending time diving into your own spiritual walk in Rooted, won't you bring your child along for their very own spiritual journey?
This session will be held before 10am service, which we encourage the whole family to attend. While your child is in Rooted KIDs, they will work through age specific workbooks with a small group leader. They will be two completely different experiences. Rooted KIDs will be focused on Discipleship and Weekend services are a time to connect with a large group of peers with intentional lessons and games.
When: 10 weeks - Sundays Sessions only
Time: 8:30am-11:00am
Cost: $60 per session Ages Nursery- 5th Grade
Ages: Babies -5th grade
Note:
*Parents must be enrolled in Rooted OR have completed Rooted 1.0 in the past in order to register their child for the program. Rooted KIDs is open to all returning kids from past sessions, whether or not parents continue on to Rooted 2.0 and beyond)
Questions?: Email Elissa at
**The last day to sign up is September 9th**