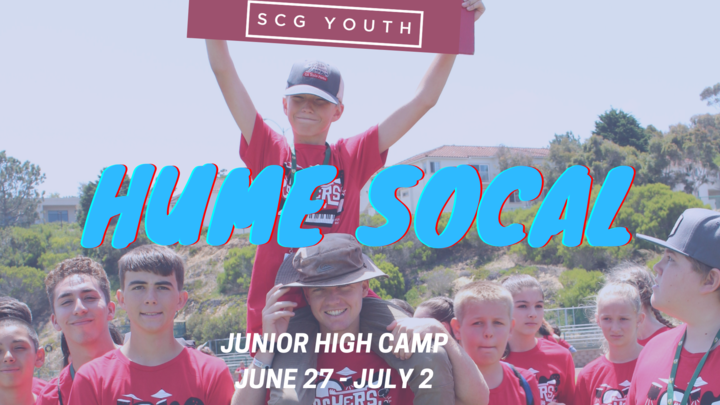 Monday, June 27, 2022, 12:00 AM - Saturday, July 02, 2022, 12:00 AM
---
Hume SoCal is the newest addition to Hume. It is located in Green Valley Lake up near Lake Arrowhead. One of the many things we love about Hume SoCal is the opportunity for your student to get away from the busyness and distractions that young people face on a daily basis and have an incredible camp experience. When you go to camp, you will hear the Gospel preached, be challenged through scripture, engage in awesome worship through music and get some time alone, and time with your SCG church family, to process what God did in your life up at camp. Hume SoCal takes pride in its high-energy recreation allowing kids to be kids. That includes things like playing in the Air-soft, Bubble Ball, going to the Lagoon, and a Zip-line. If you allow it, a week at Hume SoCal can and will change your Child life forever. We look forward to heading up to camp with you this summer! This year might look a little different depending on COVID restrictions at the time of camp. As Hume updates us we will update you on protocols, restrictions etc for camp.

COVID POLICY FOR HUME: As of right now Hume is requiring all students regardless of vaccination status to get tested 72 hoursprior to the day we head up to camp. For example since the day we head up to camp is on June 27th you can get tested at any point on June 24th. I will keep all people registered updated about the COVID policy.
Dates: June 27 -July 2, 2022

Cost: Early Bird Special Register before January 1st Pay only $730.

- After January 1st you must pay the standard camper price of $750

- $250 deposit to secure your spot.

- Final day to pay for Hume is May 20th.

Who: Incoming sixth graders through incoming eighth graders.
Questions? Email
Must provide a $250 non-refundable deposit to secure your spot
Deposit/Cancellation Policy
1. If you cancel your spot, you will forfeit the full deposit at the time of cancellation.
2. If we are able to fill your forfeited spot from our waiting list up until 4 weeks prior you will only forfeit your full deposit at the time of cancellation.
3.If your spot is canceled within 4 weeks of camp you will forfeit the total cost of camp.
** if camp is cancelled all payments will be refunded.